For Seamless Travel to Your Destination
Welcome to Swiss Top Transfer GmbH!
We know what it's like. Being greeted at the Zurich airport terminal area after your flight, being on time to catch your plane, or getting to your hotel or important meeting, while you are resting is as valuable to us, as it is for you.
Our mission is to provide you with the most comfortable and stress-free airport transfer journey possible. We understand that traveling can be hectic, which is why we offer accuracy, safe travel, and assistance whenever you need it.
That is why we are going the extra mile with the care and attention to detail we are putting into our services.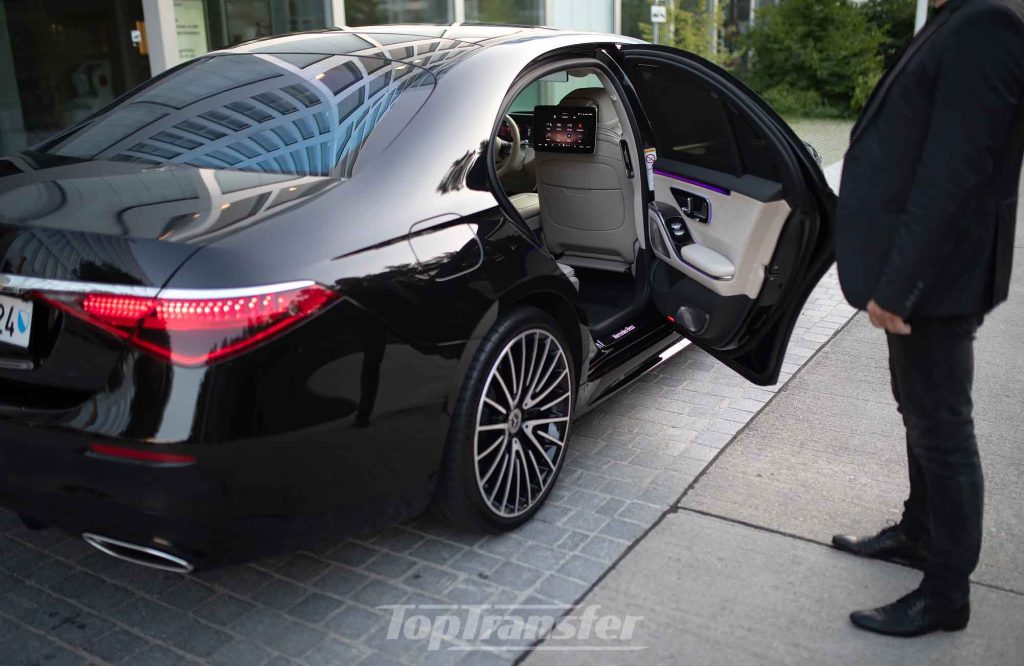 High-Quality Fleet: Discover Our Premium Vehicle Options
The high-quality you will find is there for all the different class limousines:
| Transfer Class | Vehicle |
| --- | --- |
| van transfer | Mercedes-Benz V-300 Extra Long 4Matic |
| SUV transfer | Mercedes-Benz GLS 600 Maybach |
| SUV transfer | Mercedes-Benz EQS-SUV 580 4Matic |
| business transfer | BMW 5-er xDrive Touring |
| business transfer | Mercedes-Benz E-class 4Matic |
| premium transfer | BMW 7-er Long xDrive |
| premium transfer | Mercedes-Benz S-Class 4Matic |
| premium transfer | Mercedes S-500 Long 4Matic |
| economy transfer | Toyota Corolla Touring |
Experienced Chauffeurs: The Best in Zurich at Your Service
Our fleet is headed by The Best Chauffeurs in Zurich. Our drivers have an excellent reputation and extensive experience.
They are able to speak German, English, Russian, and Spanish, making communication easy and seamless.
---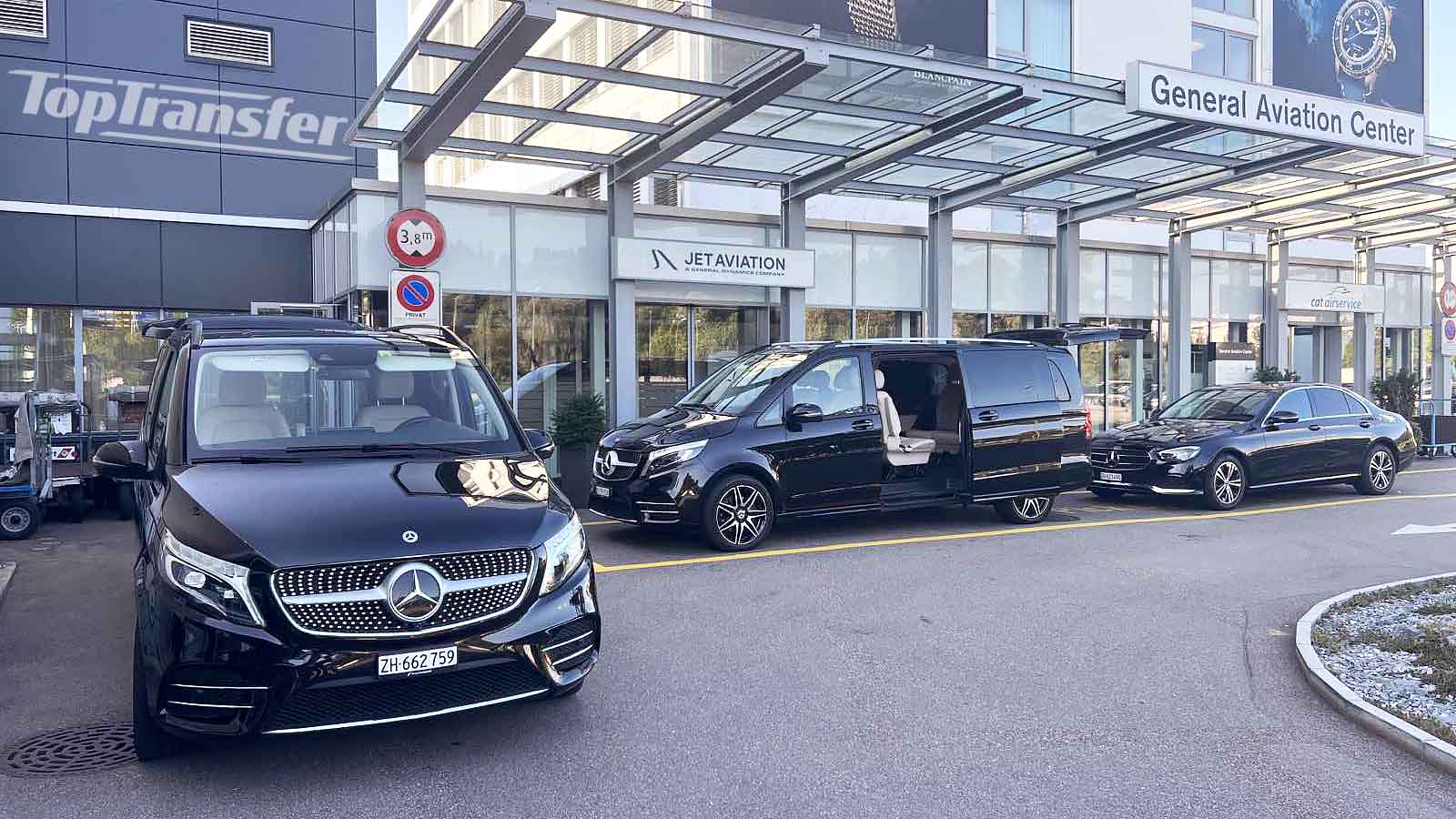 Services provided by
Swiss Top Transfer
Zurich Airport Taxi Transfers
Zurich Private Driver at Disposal
Transfers & Service Areas
From Zurich to Cities and Airports Across Switzerland
Our airport transfer service is based in Zurich, but covers a wide range of cities and airports across Switzerland and the regions across the border into the neighboring countries, ensuring that we are able to provide you with the transportation you need, no matter where you are traveling to or from.
If you don't see your desired location listed, please contact us, and we will do our best to accommodate your needs.
Personal Drivers
A Business-Class Experience
For a more personalized experience, we also offer a personal driver service. This service allows you to have your own private driver for the duration of your trip.
With our 10+ years of experience, you can be confident that you will receive business-class service without compromise. Whether you need transportation to a meeting or simply need to get around town, our personal driver service ensures your mobility, safety, and comfort, regardless of your schedule and requirements.
---
Easy Booking Process: Your Journey Starts Here
Booking your Zurich Airport transfer with us is easy and convenient. Simply visit our website and follow these short steps:
1. Choose your transfer tour route

select your pickup and drop-off locations, number of passengers, and time

2. Choose your vehicle class

select the preferred limousine or van for your comfortable transfer

3. Submit the booking form

provide the name and contact details of the lead passenger and select any desired transfer trip extras

You can then proceed to make your payment securely online or choose to do this once you meet your chauffeur.
Customer-Centric Support: Assistance and Flexibility for a Hassle-Free Experience
Within a few minutes or hours of booking your transfer service, our team will contact you to finalize the details of your trip before the pickup. On the day of your transfer, your driver will be waiting for you at the designated location
If you need assistance, just go ahead and contact us. Our call center will happily provide you with the information you require. The support team at Swiss Top Transfer's headquarters can also book your trip for you, ensuring you have the most accurate location and time of pick-up.
Note:

If you are arriving at Zurich Airport, no matter if you are flying from Frankfurt, Munich, London, Paris, or Vienna, we can track your flight and in case there is a delay, we will be able to respond properly, so you are greeted.
---
Well-Maintained Fleet: High-Class Vehicles for Your Comfort
We have a range of high-class vehicles to choose from, including sedans, SUVs, and minivans. All of our vehicles are well-maintained, clean, and equipped with the latest technology to ensure a smooth and safe transfer journey.
Whether you are traveling alone or with a group, we have the right vehicle for you.
Client Testimonials: What Our Clients Have to Say About Us
We are known among our clients for the high level of service and precision we offer.
Our current service rating stands at 4.9 out of more than 100 client reviews.
But don't just take our word for it. Have a look at some of the reviews for Swiss Top Transfer by our clients and what they say about their experience.
FAQs: Answers to Common Questions
We have put together a list of common questions to help you better understand our Zurich Airport transfer service. If you have a question that is not answered here, please contact us, and we will be happy to assist you.
---
The cities with the most flights to Zurich, based on historical data up until September 2021