Swiss Top Transfer GmbH - Premier Airport Transfer Service in Zurich
Welcome to Swiss Top Transfer GmbH, your trusted partner for high-quality airport transfers in Zurich.
We specialize in providing luxurious limousines and professional chauffeurs to ensure your airport transfer experience is exceptional. With a focus on excellence and customer satisfaction, we provide a pleasant and memorable transportation experience for both business and leisure travelers.
At STT, we understand the importance of a seamless and stress-free journey, which is why we go the extra mile to exceed your expectations.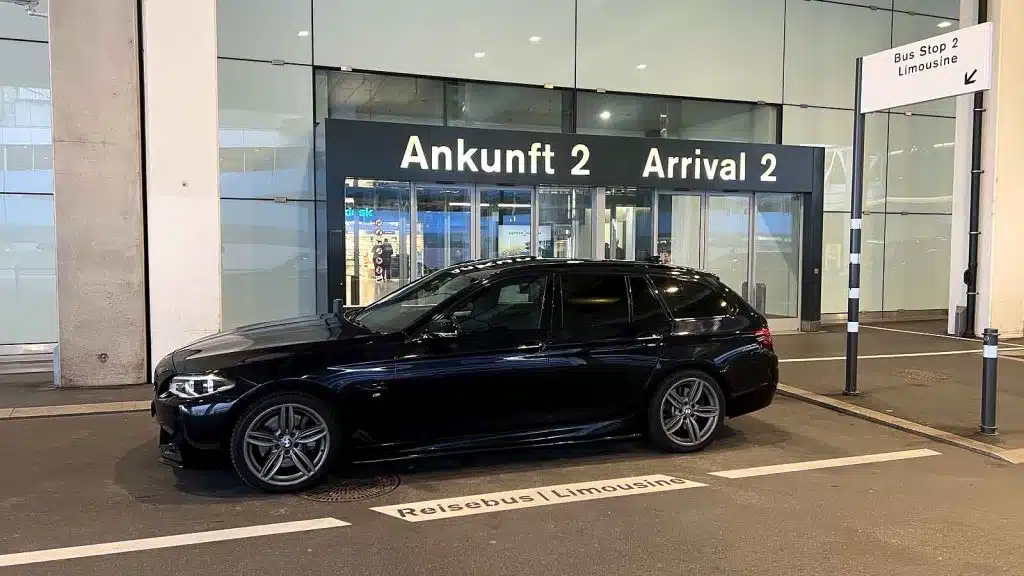 Why Choose Our Airport Transfer Service
When you choose Swiss Top Transfer, you can expect a maximum comfort airport transfer experience. That's why we go above and beyond to exceed your expectations with the following key benefits:
Reliability: We pride ourselves on punctuality and delivering a reliable service. You can trust us to be there on time, every time.
Professionalism: Our team of experienced chauffeurs is dedicated to providing the highest level of professionalism. They are well-trained, courteous, and knowledgeable about the local routes, traffic patterns, and airport procedures.
Convenience: We strive to make your journey as convenient as possible. From online booking to 24/7 availability, we ensure a hassle-free experience.
Expertise: With years of experience in the industry, Swiss Top Transfer has established a reputation for excellence in airport transfers. You can trust us to handle your journey with expertise and precision.
Luxurious Limousines for Airport Transfers
Experience the epitome of luxury and comfort with our exquisite fleet of limousines. Our vehicles are meticulously maintained and equipped with a range of features and amenities to enhance your travel experience:
Spacious Interiors: Step into a world of elegance and refinement with our limousines' lavish interiors, offering ample space to stretch out and relax during your journey.
Entertainment Systems: Enjoy the latest entertainment options, including state-of-the-art audio systems and multimedia displays, ensuring a delightful and entertaining ride.
Climate Control: Experience personalized comfort with individual climate control settings, allowing you to create the ideal ambiance for your journey, regardless of the weather outside.
Professional Chauffeurs
Our chauffeurs are the backbone of our exceptional service. Each chauffeur at Swiss Top Transfer possesses the following qualities:
Qualifications and Professionalism: Our chauffeurs undergo rigorous training and are selected for their professionalism, impeccable driving records, and outstanding customer service skills.
Local Expertise: Familiar with the intricacies of Zurich and the surrounding areas, our chauffeurs possess a deep understanding of the best routes, avoiding traffic congestion, and ensuring a timely arrival at your destination.
Safety and Comfort: Your well-being is our top priority. Our chauffeurs prioritize safety, adhering to all traffic regulations and providing a smooth and comfortable journey.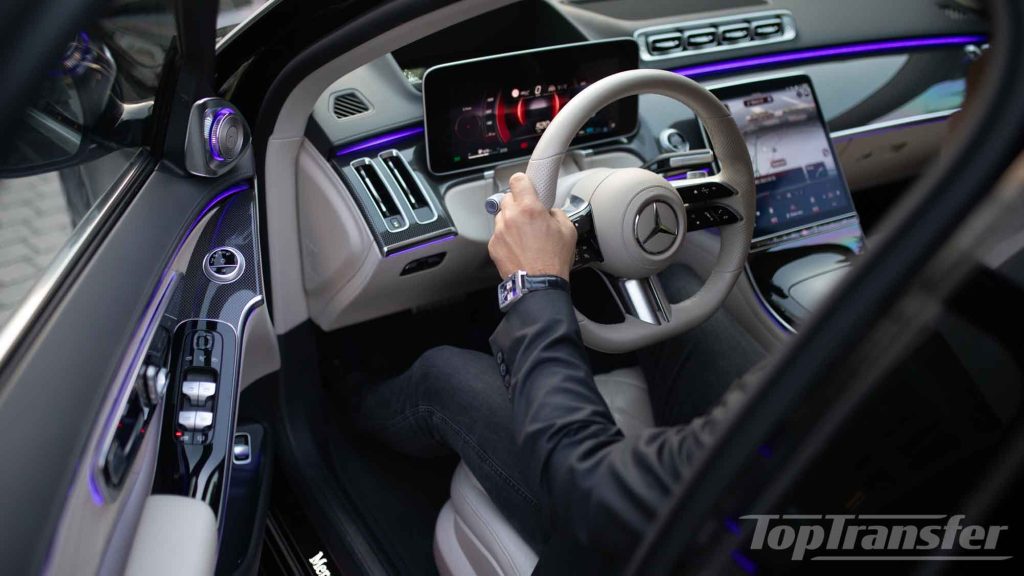 Seamless Zurich Airport Transfer
Booking an airport transfer with Swiss Top Transfer is a seamless and convenient process. We offer the following features to enhance your experience:
Online Booking: Easily reserve your airport transfer through our user-friendly online booking system, available 24/7 for your convenience.
Punctuality and Efficiency: We understand the importance of timely arrivals and departures. With STT, you can rely on our punctuality and efficient service to ensure an excellent travel experience.
Personalized Customer Support: Our dedicated customer support team is available to assist you with any inquiries, reservations, or special requirements you may have. We are committed to providing exceptional service from start to finish.
Customized Services and Add-ons
We understand that every traveler has unique requirements. That's why we offer additional services and add-ons to enhance your airport transfer. Whether you need a baby seat, child seat, booster, or ski bag, we are ready to accommodate your needs. Our aim is to provide a personalized and tailored experience, ensuring your comfort and satisfaction.
Ultimate Convenience with our Disposal Private Driver Service
Swiss Top Transfer offers an exclusive disposal private driver service, designed to cater to your specific needs and provide unparalleled convenience during your stay in Zurich. Whether you're visiting for business or leisure, our disposal service ensures that you have a dedicated chauffeur and vehicle at your disposal for the duration of your trip.
Discover the Enchanting Destinations with STT
Swiss Top Transfer takes you to some of the most breathtaking destinations in Switzerland and the neighboring regions. Explore the following main destinations with our high-quality Zurich Airport transfer service:
St Moritz: Indulge in the glamour and luxury of St Moritz, renowned for its world-class ski slopes, stunning alpine landscapes, and vibrant atmosphere. Let us transport you to this iconic destination in style and comfort.
Davos: Experience the charm of Davos, a picturesque mountain town famous for its ski resorts, winter sports, and annual World Economic Forum. Our airport transfer service ensures a smooth and convenient journey to this captivating destination.
Geneva: Immerse yourself in the cosmopolitan ambiance of Geneva, a vibrant city nestled on the shores of Lake Geneva. Whether you're visiting for business or pleasure, our luxurious limousines will ensure a seamless transfer to your destination.
Zermatt: Marvel at the majestic beauty of Zermatt, home to the iconic Matterhorn and world-class skiing. With STT, you can enjoy a comfortable and stylish ride to this enchanting alpine village.
Gstaad: Discover the charm of Gstaad, a luxurious and idyllic Swiss resort town renowned for its ski slopes, high-end boutiques, and stunning scenery. Let our professional chauffeurs transport you to this captivating destination.
Andermatt: Escape to Andermatt, a hidden gem nestled in the heart of the Swiss Alps. Experience the pristine nature, excellent skiing, and warm hospitality of this charming alpine village with our airport transfer service.
Flims: Explore the natural wonders of Flims, a paradise for outdoor enthusiasts. From hiking trails to breathtaking lakes, Flims offers a serene retreat amidst nature's beauty. Travel in comfort and style with Swiss Top Transfer.
Verbier: Embark on an unforgettable adventure in Verbier, a world-renowned ski resort known for its challenging slopes and vibrant après-ski scene. Let us provide you with a luxurious and convenient transfer to this winter wonderland.
St Anton: Experience the legendary ski paradise of St Anton, where thrilling slopes and a lively atmosphere await. Our professional chauffeurs will ensure a safe and enjoyable journey to this iconic Austrian resort town.
Lech: Immerse yourself in the alpine charm of Lech, a picturesque village with a rich skiing heritage. With STT, you can enjoy a seamless and comfortable transfer to this winter paradise.
Grindelwald: Discover the captivating beauty of Grindelwald, nestled in the Swiss Alps with stunning views of the Eiger North Face. Our airport transfer service will ensure a smooth and scenic journey to this alpine gem.
Lauterbrunnen: Experience the magical valley of Lauterbrunnen, known for its cascading waterfalls, lush green meadows, and dramatic cliffs. Let us transport you to this natural wonderland for an unforgettable experience.
Lucerne: Delve into the charm of Lucerne, a picturesque city nestled on the shores of Lake Lucerne. Explore its medieval architecture, vibrant culture, and stunning landscapes with our reliable and comfortable airport transfer service.
Interlaken: Immerse yourself in the adventure capital of Switzerland, Interlaken. Surrounded by breathtaking mountains and picturesque lakes, Interlaken offers a plethora of outdoor activities. Our airport transfer service ensures a smooth and convenient journey to this adrenaline-filled destination.
Experience the beauty and excitement of these main destinations with Swiss Top Transfer. We guarantee a luxurious, comfortable, and punctual airport transfer service, allowing you to relax and enjoy your journey from Zurich Airport to your desired location.
Testimonials and Reviews
Don't just take our word for it. Our satisfied customers speak for themselves. Here are some testimonials from clients who have experienced our exceptional airport transfer service:
"Absolutely excellent service - very easy to book, clear communication. Driver arrived 10 minutes early. Clean, nice car. Polite and well-mannered driver. Very good value for money. I couldn't recommend this service more highly - I will definitely use this service again."
"Our clinic uses this transportation service for our patients from abroad, and I must say that we are extremely impressed with their quick and safe service. They were able to provide reliable transportation for our patients, ensuring their safety and comfort throughout the journey. I highly recommend this transportation service to anyone looking for efficient and reliable transportation for medical treatment abroad. Thank you for your service!"
What do you get with each transfer service?
At Swiss Top Transfer, we believe in providing a comprehensive and customer-centric airport transfer service. Each transfer service includes a range of benefits and amenities to ensure your journey is comfortable, convenient, and hassle-free.
Free Waiting Time: We understand that delays can happen, which is why we offer complimentary waiting time. For airport transfers, you have 1 hour of free waiting time after your flight lands. For hotel and private address transfers, we provide 20 minutes of free waiting time, allowing you to collect your belongings and proceed to the vehicle at your own pace.
Door-to-Door Pickup: We take pride in offering a door-to-door pickup service, eliminating the need for you to worry about transportation to and from designated meeting points. Our professional chauffeurs will pick you up from your desired location and drop you off directly at your destination, ensuring a seamless and convenient transfer experience.
Meet & Greet at the Airport Terminal: To make your arrival at the airport even more welcoming, we provide a Meet & Greet service. Our courteous and professional chauffeurs will be waiting for you at the airport terminal, holding a sign with your name. They will assist you with your luggage and guide you to the luxurious vehicle, ensuring a smooth transition from the airport to your desired location.
Free Wi-Fi in the Car: Stay connected throughout your journey with our complimentary Wi-Fi service. Our vehicles are equipped with reliable and high-speed internet connectivity, allowing you to check emails, browse the web, or stay connected with friends and family.
Free Mineral Water for the Trip: Hydration is important, especially during travel. To ensure your comfort, we provide complimentary mineral water for your trip. Sit back, relax, and enjoy a refreshing drink as you travel to your destination in our luxurious vehicles.
Free Cancellation up to a Day Before: We understand that plans can change, which is why we offer flexibility with our cancellation policy. You can cancel your reservation up to a day before the scheduled transfer without incurring any charges. We strive to provide our customers with peace of mind and the freedom to adjust their travel arrangements as needed.
With Swiss Top Transfer, you can expect a comprehensive and customer-oriented airport transfer service. We go above and beyond to ensure your journey is smooth, comfortable, and tailored to your specific needs, making your travel experience truly exceptional.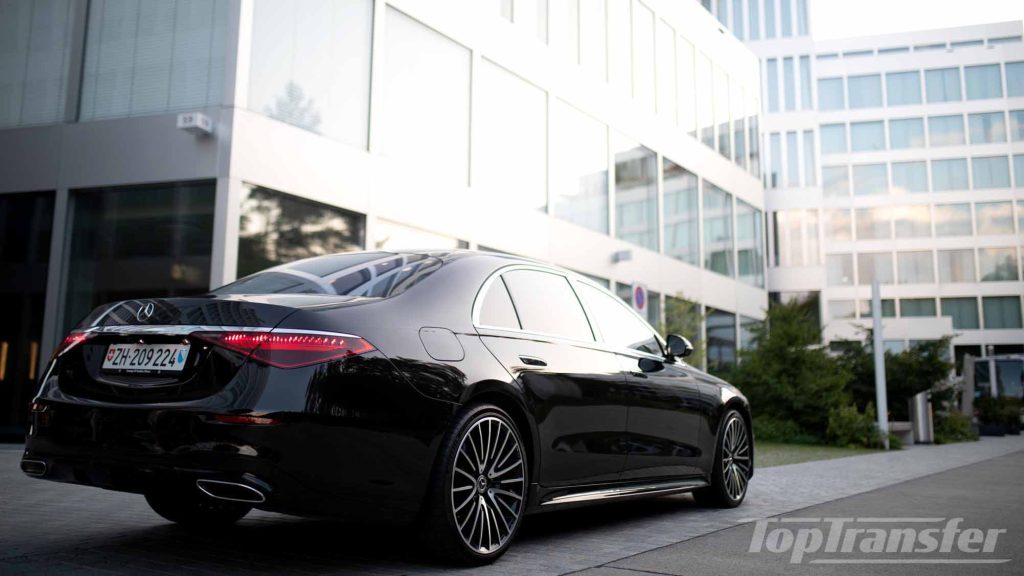 Secure Return Trips
STT offers convenient return trip options for your airport transfer needs. Simply provide us with your return trip details, and we will arrange for a luxurious vehicle and professional chauffeur to pick you up at the designated time. Enjoy your journey both ways, back to the airport or any other destination, ensuring a pleasant travel experience from start to finish. Trust Swiss Top Transfer for all your return trip needs and experience the convenience and reliability of our service.
Contact Information and Customer Support
To book your airport transfer or inquire further, please contact us:
Phone: +41763776605
Email: office@toptransfer.ch
Visit our contact page
Our dedicated customer support team is available to assist you with any inquiries, reservations, or special requests you may have.
At Swiss Top Transfer, we understand the importance of effective communication during your airport transfer experience. That's why our drivers and support team are proficient in multiple languages to ensure clear and seamless communication. Whether you prefer German, English, Russian, or Spanish, our dedicated team members are ready to assist you in your preferred language.
When it comes to high-quality airport transfers with luxurious limousines, Swiss Top Transfer is your trusted partner. With our exceptional service, professional chauffeurs, and top-of-the-line vehicles, we ensure a premium and unforgettable experience. Book your airport transfer with STT and enjoy a journey that exceeds your expectations.